Published July 16, 2018
Five SUVs that can tow more than 2,000 pounds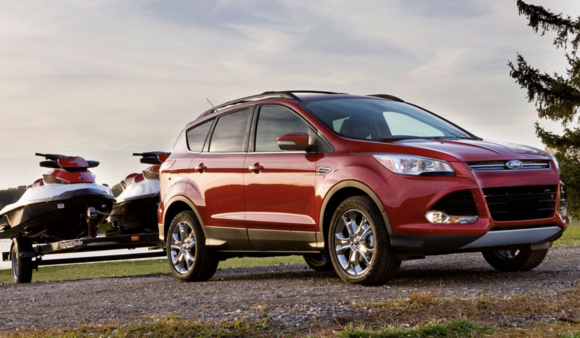 With the construction holidays approaching in Quebec, many families will want to swap the city for the campground and the house for the camper. That said, buying that camper means having a vehicle that can tow it.
The same goes for a boat, Sea-Doo or any other summer or winter thing that needs to be towed. What your towing is less important than the vehicle that pulls it.
With that in mind, we searched our inventory of pre-owned sport utility vehicles to find different models that will be able to meet your towing needs, both in winter and summer.
Ford Escape
The Ford Escape has always stood out in the compact SUV segment because of its impressive number of engine options which together offer an amazing towing capacity. Two of the three engines available in the Escape range can tow more than 2,000 pounds. The most powerful engine offered in the Escape can even pull up to 3,500 pounds.
Mitsubishi Outlander
Often forgotten in the compact SUV segment, the Mitsubishi Outlander is nevertheless a very interesting choice. A stronger than average depreciation makes it very affordable on the second-hand market despite being just as reliable, safe, comfortable and efficient as its rivals. In addition, it was one of the last to offer a V6 engine. The latter offers 3,500 pounds of towing capacity.
Hyundai Santa Fe Sport
We do not immediately think of Hyundai when looking for an SUV that can tow. That said, the Santa Fe Sport's V6 engine offers impressive power and a very usable towing capacity. All this combined with a more spacious interior and exceptional reliability.
Volkswagen Tiguan
The Volkswagen Tiguan is considered the most fun to drive and dynamic compact SUV in its segment, and by a wide margin. That said, its turbo engine offers a lot of torque and therefore a good towing capacity to go along with its sharp handling.
Mazda CX-5
The Mazda CX-5 is equipped with a SKYACTIV engine that is particularly fuel-efficient. As a matter of fact, you'll be hard pressed to find a more efficient sport utility vehicle in this segment. That being said, the CX-5 also offers a towing capacity that will meet the needs of the vast majority of consumers. If you need to tow without worrying about fuel economy, the CX-5 is certainly a model to consider.
Entrepôt Auto Durocher offers several low mileage SUVs that can meet all your towing capacity needs. Come meet us today to learn more!
---
Contact Us