Get peace of mind!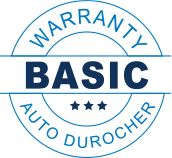 Basic Warranty
All vehicles of less than 5 years and of 80,000 km or less are covered by a performance warranty. This warranty covers parts and labour needed to ensure the proper functioning of the vehicle.
The Good Working Order Warranty is required by law and only applies to recent pre-owned vehicles. The duration of the warranty varies according to the year in which the vehicle was released and to its mileage. It is put into effect at the vehicle's delivery.
Good Working Order Warranty Categories:
A: 2 years or less and no more than 40,000 km → duration of warranty is of 6 months or 10,000km
B: 3 years or less and no more than 60,000 km → duration of warranty is of 3 months or 5,000 km
C: 5 years or less and no more than 80,000 hm → duration of warranty is of 1 month or 1,700 km
D: more than 5 years and/or more than 80,000 km → no warranty applicable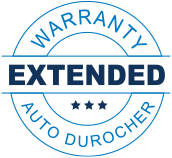 Extended Warranty
Most vehicles will sooner or later need repairs -- it is obvious. That's why Entrepôt Auto Durocher offers extended warranties on most vehicles of 10 years or less. We offer warranties ranging from 12 to 60 months with variable mileage restrictions -- from 5,000 km to 180,000 km.
No matter where you are in Canada, this warranty covers the following:


Cost of repairs

24/7 roadside assistance

The warranty's balance is transferable to the new owner when reselling the vehicle.
No need to worry! Simply call 1 800 363-4567 to find the service centre nearest to you. If the vehicle is still covered by the manufacturer's warranty, Entrepôt Auto Durocher offers protection plans that account for this period of coverage. The price is also adjusted accordingly. Since the extended warranty must be procured at the vehicle's purchase, this adjustment effectively enables the extension of the original warranty.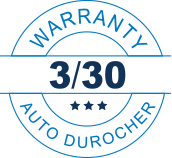 3/30 Warranty
3-Day or 100 km Satisfaction Warranty
If you aren't satisfied with your purchase, you simply have to return the vehicle to us in the 3 days following the possession of your vehicle and you will be able to exchange it for a different vehicle!
30-Day Exchange Program
Entrepôt Auto Durocher's 30-day exchange program protects you against major breakdowns that may occur.

The vehicle may only be exchanged in cases of major mechanical deficiencies.

This warranty is applicable for 30 days or 1,700 km (whichever comes first) following the vehicle's delivery date.

Only one exchange per customer is permitted. The exchange may only be granted for the purchase of another vehicle of equal or superior value (with the balance being paid by the customer).

All accessories installed on the first vehicle may be transferred to the new vehicle at the customer's expense. If the accessories are not transferable, they will not be reimbursed.

The exchanged vehicle must be in the same condition and must have the same appearance as at its delivery.

The exchange program is not applicable to customers having benefitted from second chance credit or alternative financing.

The exchange program may not be transferred, assigned, exchanged or sold (in whole or in part).

The exchanged vehicle must have been previously inspected by Entrepôt Auto Durocher.